It takes far more than just design skills to find success as a creative entrepreneur. Your success hinges on your business management: marketing, sales, client relations, people skills, delegation, ambition, vision, and numerous other nuanced skillsets. Perhaps one of the most daunting aspects of finding success is actually selling your services with a positive conversion rate. If you are looking to increase your close rate and grow your business as a freelancer, following this proven process is the right place to start.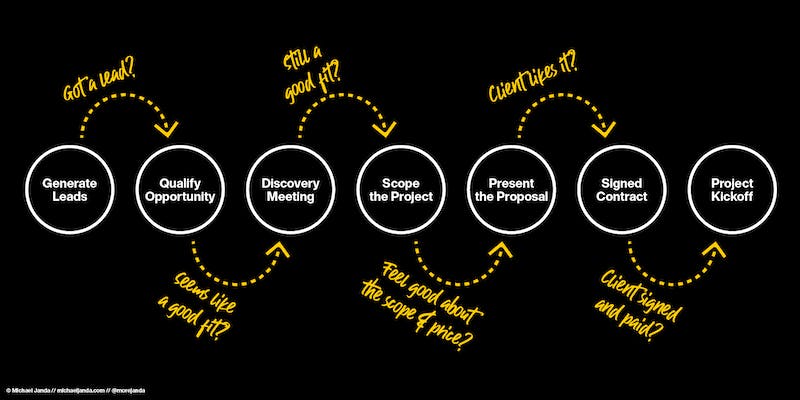 01: Market for Lead Generation
Marketing and sales go hand in hand, so it is only fitting your sales process starts with lead generation. Even established brands need marketing to generate new business, so the same is true with you. Website, social media, networking events, start by leveraging a few marketing tactics to expose yourself to new people and opportunities.
02: Qualify the Opportunity
Once you have an interested potential client, your next step is to have a brief qualifying conversation. Not only are you seeking to understand if the client is a good fit for you in the conversation, but you should also be evaluating whether you are a good fit for the client. This conversation can be done in 5-10 minutes. If the client is a good fit, the project is something you can succeed on, and the budget is sufficient, they are "qualified."
03: Discover Your Client's Needs
After establishing you and a prospective client are a good fit for one another, your next step is to have an in-depth conversation with your potential client to discover their problems, needs, and concerns. (P.S. Don't waste time in a discovery meeting for a client you haven't qualified yet!)
04: Scope the Project
Equipped with a clear understanding of your client's problems and needs, you can begin to strategize how you will solve your client's problems. In this phase, you are scoping your design project for a particular client and setting a price for your work. All of this information will be compiled into a proposal that you will share with your prospective client.
05: Present the Proposal
Once you have scoped the project and created a proposal, you will present your project proposal to your prospective client. The goal of this conversation is agreement, but it can certainly be a conversation. Not every client is ready to move forward at face value, so don't be surprised if a proposal needs to be adjusted before a contract can be created.
06: Create a Contract
After your client has agreed on your proposal, the next step (and a massively important one at that) is to create a contract for the project. The contract should detail exactly what you will do for the project and what the client will pay. Your client will formally accept the contract with a signature.
07: Project Kickoff
Before getting started on your design work, get your first payment and hold a project kickoff meeting with your client to ensure alignment through the entirety of the project. In the meeting, you should review the project scope, introduce any team members, discuss milestone dates to set client expectations, and of course, answer any questions your client may have.
You may already be finding success in a couple of the above-mentioned steps, but each component needs to work with the others in harmony to see consistent results in your freelance business. Which step in your sales process do you plan to make improvements to first?