A few months after I started freelancing full-time, I landed a small tech client in search of a new logo. I was young, dumb, and eager to please, so I pulled out all the stops! Round one: I designed 10, or so, logo options for the client. The client was less than impressed. Ugh.
Round two: My competitive nature kicked in and I was on a mission to please this "difficult to please" client. I delivered another batch of 15-20 logo ideas. Again, they didn't find anything they liked from the variety of options. (By the way, I don't recommend this approach…designing tons of logos…haha…remember this was in my "young and dumb" freelancer phase.)
Round three: no special reaction. Round four: still not finding it. Round five, six, seven, when does it end???? Finally, after I had submitted nearly 100 logo ideas for this client, I think they "settled" on a logo because, frankly, nothing was going to satisfy them. I am fairly sure this was the first project I lost money on, but gratefully, we survived the experience.
This is a real life example of "scope creep." In your proposal/contract you should clearly define the scope of a project. This scope should included the sizes and quantity of deliverables, the number of rounds included in the project, and any other details that should not be left to assumption. (My "15 years later" bulletproof contracts can be downloaded in my freelance course.) When you and your client don't adhere to the contract, that is "scope creep."
A Gem to Control Scope Creep
Over the years, I continued to refine contracts and improve my ability to manage clients and scope creep became much easier to control. One of the best things I implemented was this little gem.
When you deliver a design round to your client, start the meeting (before you show any work) with a little recap of project scope and include this little graphic in your delivery document.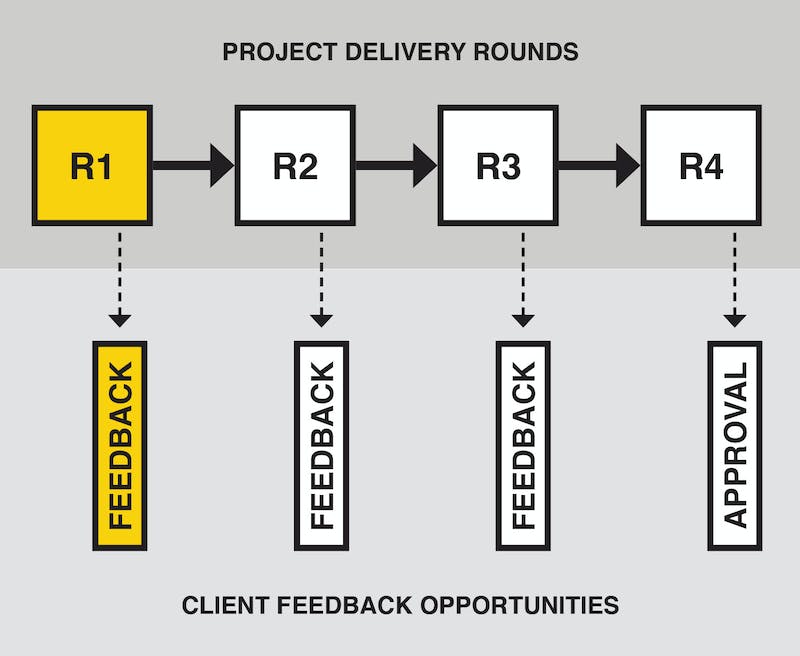 Then say something like this;
"Before we get started with our presentation of the work, we just want to highlight that this is Round 1 of the project. We have three rounds included in the project because we want this to be a collaborative process with you. We want your feedback. We don't expect to nail it in Round 1. We can refine the work over the next couple rounds."
This type of introduction will frame the meeting properly and protect you from a client getting frustrated that the designs aren't nailed in the first delivery. It also is a great reminder of how many rounds are included in the project scope.
Warn the Client of Possible Scope Creep Before it Happens
You'll use that graphic in all of your delivery rounds, constantly reminding the client of the project scope and the magic happens when you get to the final rounds and your graphic looks like this: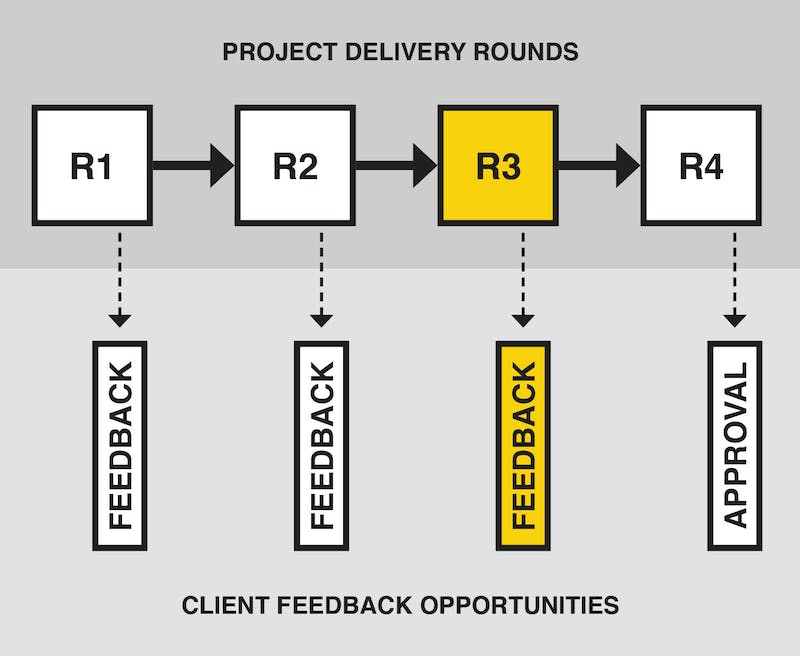 As you introduce this delivery round, you may say something like;
"This has been a fun process working with you. Just a reminder, this is Round 3 of the project. After this round, we have one final delivery included in the project scope. The final round is usually just some final tweaks to the work and typically we can make them quickly. That final round is for approval before we move to the next phase of the project."
This message preps the client that their opportunity to make changes is coming to an end.
You then proceed to the final round of the project and position the delivery meeting as such. Your image will look like this: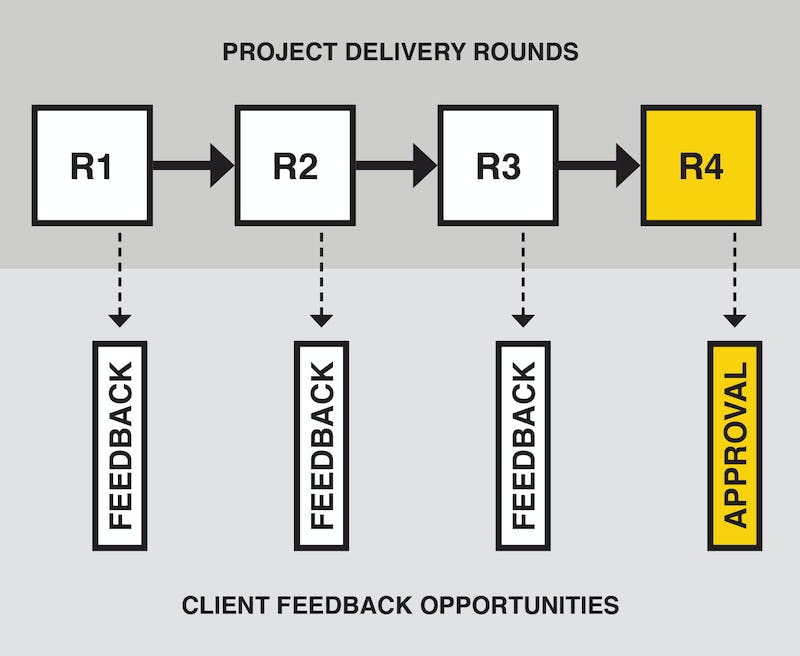 This approach works magic for controlling the scope of the project, but it doesn't work miracles. There will still be times when a client will ask for more rounds of changes.
When that happens it is so easy for you to say;
"I understand that you want to make extra changes. We didn't expect those in the original scope of the project. We are happy to make more modifications to the work. I'll send you an addendum (change order) to our agreement that will outline the additional costs for the extra rounds."
You then follow up with a change order and charge the client for the extra work that was not included in the original scope of the project.
Booyah! Hope you like it. This strategy works like a charm!