Freelance with Janda: The Ultimate Freelance Course
Better proposals. Better contracts. Better business.
This course shares the strategies I developed through 15 years of proposal and contract refinement across more than 3,000 client pitches and more than 2,000 projects for hundreds of different clients including Disney, Pepsi, and many other A-list brands.
Enroll in the Course for $159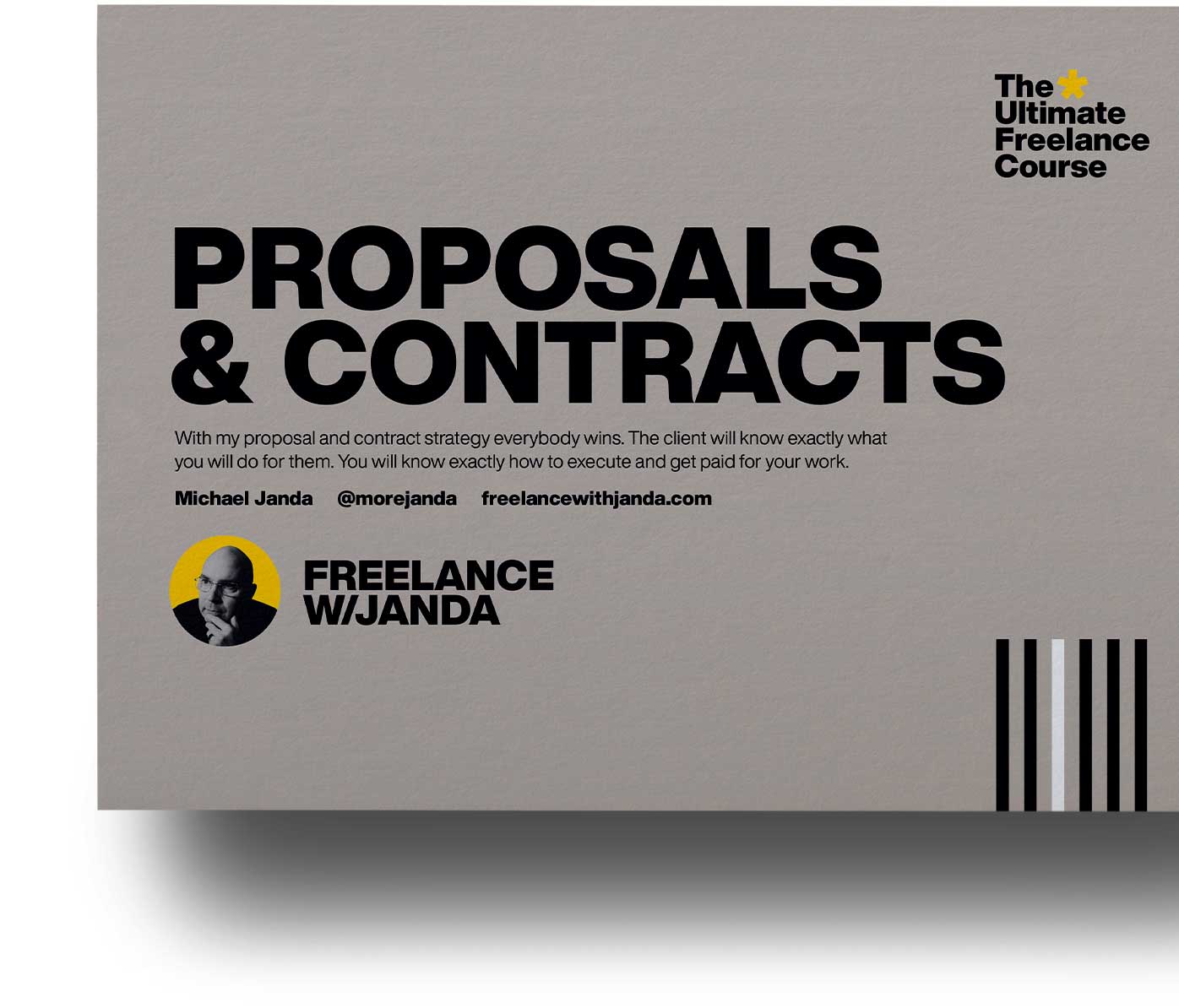 Proposals and Contracts: Course Description
I believe my proposal and contract strategy to be the most thorough and bulletproof in the creative industry. Every contractual lesson I learned from experimenting through thousands of client pitches and 15 years of agency grind is now available in this course. I've included pre-written proposal templates to help you sell more effectively and pre-written contracts to help you control the client engagement. With my proposal and contract strategy everybody wins. The client will know exactly what you will do for them. You will know exactly how to execute and get paid for your work. These are the proposals and contracts I used to execute on projects for a client list that included Disney, Google, ABC, NBC, Fox, Warner Bros., National Geographic, and many other amazing brands.
More than 8+ hours of video lessons
28 detailed lessons explaining every proposal and contract clause
17 downloadable proposal and contract templates (templates are in Adobe InDesign format and PDF)
Example presentations you can model for your clients sales meetings
Downloadable spreadsheets and strategies to help you track your proposals and better understand your creative business
Downloadable proposal templates for many types of projects – easy to edit and easy to use
Downloadable contract templates (statements of work) that you can easily edit to contract your clients more effectively
Legal terms for your contracts with clear explanations of each clause
Downloadable change order templates (addendums) and crystal clear instructions of how, and when, to use them
Downloadable simple proposal template with explanations of how to use it
Downloadable rough estimate and how to use it in your business
A solid contract is the best way to ensure a happy client, this course will change your business
Pre-written Proposal Templates:
Multi-project Proposal
Generic Project
Logo Design
Print Design
Web Design & Dev
Rough Estimate
Pre-written Contract Templates:
Logo Design
Print Design
Web Design & Dev
Monthly Retainer
Time Based Engagements
Web Maintenance
Generic Project
Addendum/Change Order
Master Service Agreement
Simple Contract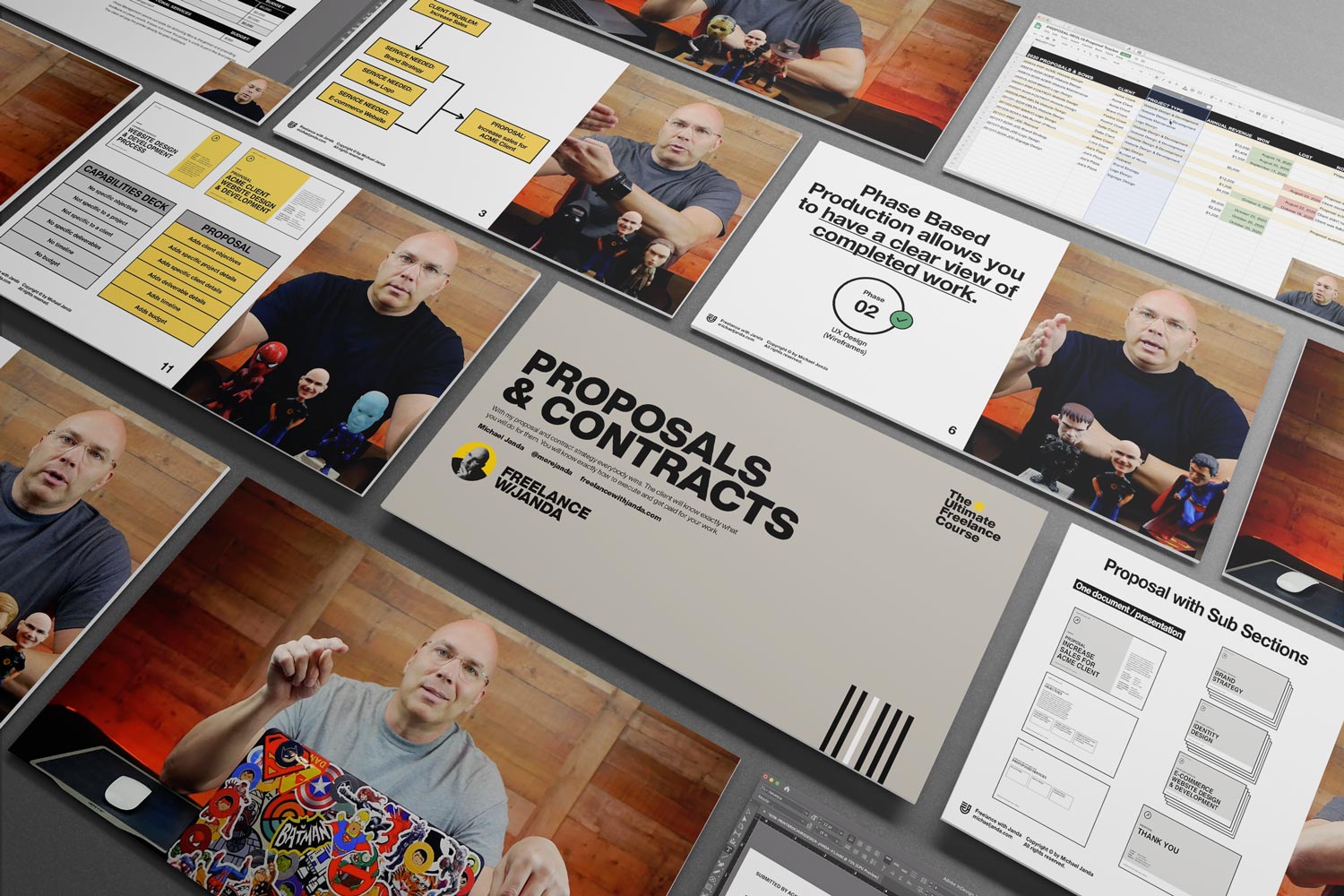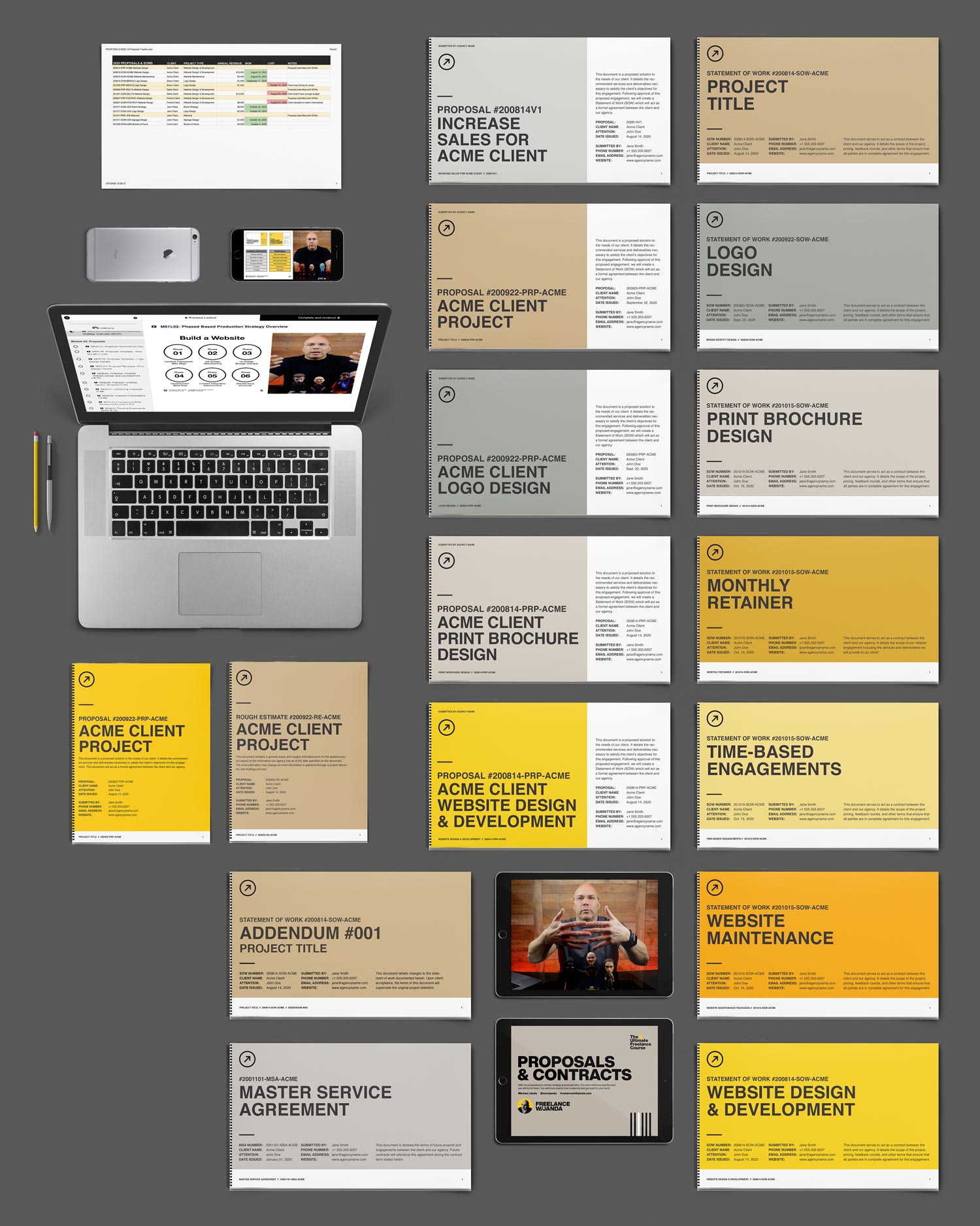 The Ultimate Freelance Course
 28 Video Lessons
 8+ Hours of Instruction
 17 Downloadable Resources
30-Day Money Back Guarantee
Lifetime Access
Proposal Templates
 Multi-project Proposal
 Generic Project
 Logo Design
 Print Design
 Web Design & Dev
 Rough Estimate
Contract Templates
 Logo Design
 Print Design
 Web Design & Dev
 Monthly Retainer
 Time Based Engagements
 Web Maintenance
 Generic Project
 Addendum/Change Order
 Master Service Agreement
 Simple Contract
Business Systems
 Proposal Tracker System
Includes
Course 03: Proposals and Contracts
Does Not Include
Course 01: Preparing for Full-time Freelance
Course 02: Selling Creative Services
Course 04: Pricing Creative Services
Course 05: Project Management for Creatives
Course 06: Managing a Creative Business
Learn About These Courses
Enroll in the Course
Wait! Before you enroll, be sure to check out The Ultimate Freelance Course Six Course Bundle to maximize your success as a creative entrepreneur! It includes this course and five other courses that will transform your creative business!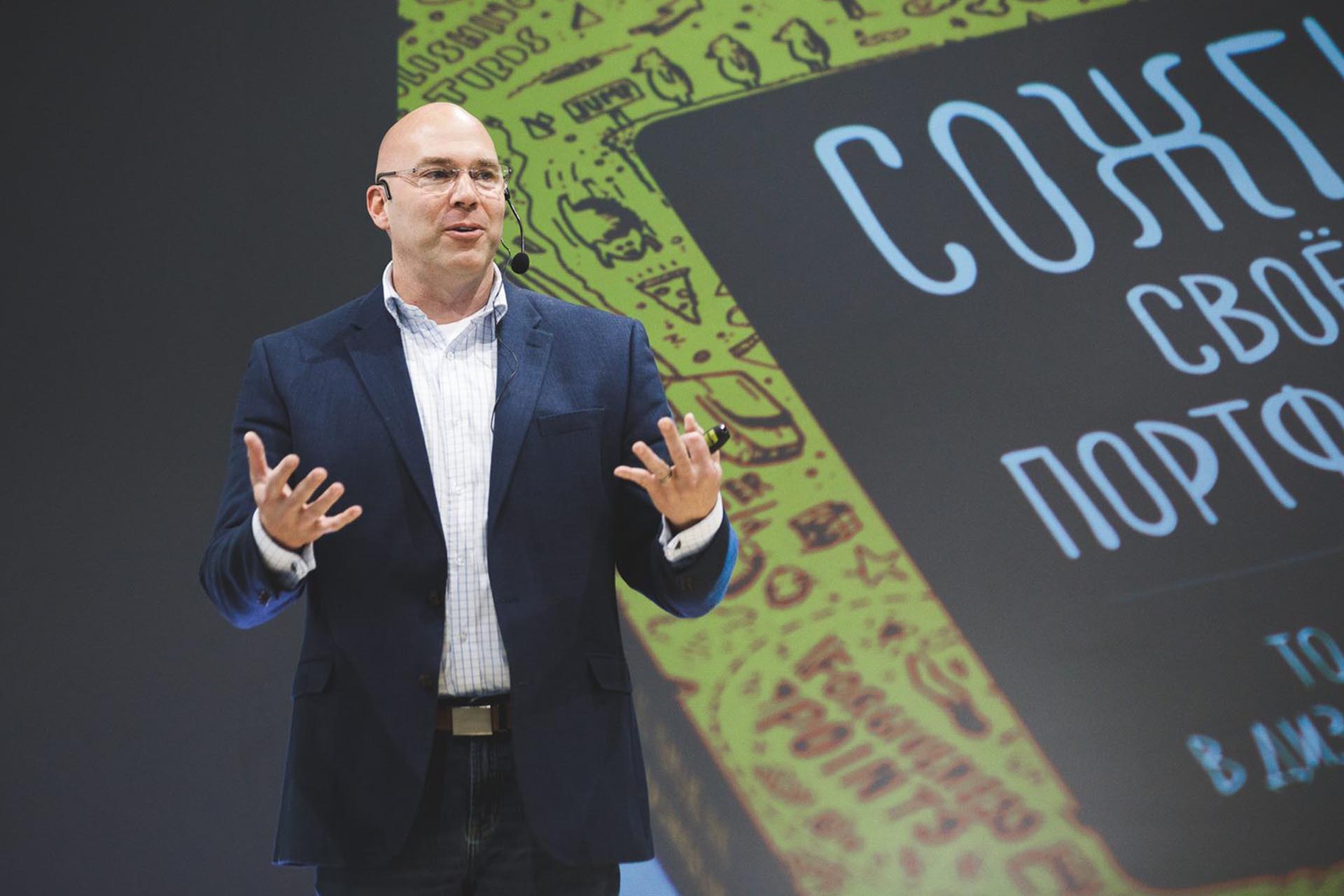 Meet Your Instructor, Michael Janda
Michael Janda is the best-selling author of Burn Your Portfolio. He has over 20 years of creative agency experience working with clients like Disney, Google, ABC, NBC, FOX, and other famous brands. The concepts he teaches in this exclusive free training are meant to help creatives fine tune their business skills and develop successful careers.
In 2002, Michael founded the creative agency, Riser, which he led in more than 2,000 projects, numerous creative and marketing awards, and more than $30,000,000 in total revenue. Michael is also known as @morejanda on Instagram where he grew an audience of more than 120,000 creatives in less than a year sharing free content to help level up creative entrepreneurs. He currently resides in Salt Lake City, Utah with his wonderful wife and 3 children.