Stuff they don't teach you in design school, but should. A book by Michael Janda. If you want to learn how to design, go to design school. If you want to learn how to work in design, read this book.
It takes more than just a design school education and a killer portfolio to succeed in a creative career. Burn Your Portfolio teaches the real-world practices, professional do's and don'ts, and unwritten rules of business that most designers, photographers, web designers, copy writers, programmers, and architects only learn after putting in years of experience on the job. In the book I use humorous insights to dispense nugget after nugget of hard-won advice collected over the last decade from the personal successes and failures I have faced running my own agency. In this surprisingly funny, but incredibly practical guide, my advice on teamwork and collaboration, relationship building, managing clients, bidding work, production processes, and more will resonate with creative professionals of all stripes.
Weighing in at 400 pages of invaluable information intermingled with 200 awesome illustrations, Burn Your Portfolio, has something for everyone working as a creative professional. From junior designers to creative directors, freelancers to agency owners, this book is filled with nuggets of wisdom learned in the trenches of the real creative world. The book is broken out into five sections that will help you answer questions like: How do I keep from getting hosed by my clients who don't want to pay? How do I set up a production process? What will make me stand out and catch my boss' attention? How can I make money as a freelance designer? How much should I charge? And with chapters like Polishing Turds, How to Eat an Elephant, Don't Work In A Vacuum, and This Is Not Verbatim-ville, you are sure to be entertained along the way.
Buy Now on Amazon
SPECIFICATIONS
Published Jun 1, 2013 by New Riders.
Pages: 400
ISBN-10: 0-321-91868-1
ISBN-13: 978-0-321-91868-0
LANGUAGES
English
Russian
Chinese Traditional
Chinese Simplified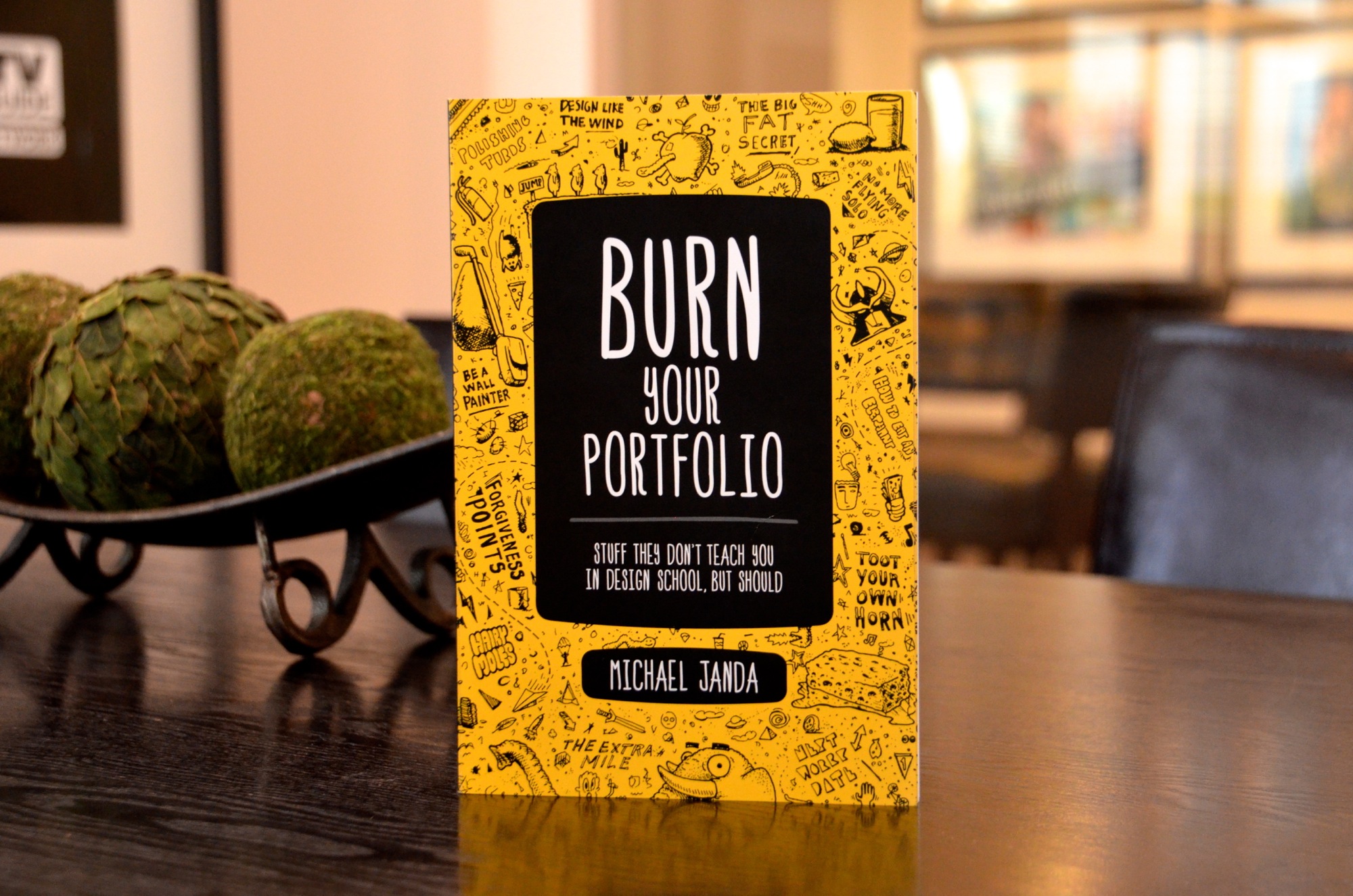 For someone who just worked tirelessly to put together a portfolio, this is probably the last book I would ever think to pick up. However, this is exactly why it caught my attention. As a recent SCAD graduate, this book was the perfect insight to make it in this world as a designer. I believe that many artist/designers have high hopes of one day being the most sought after, living in a big city, and doing pretty well for themselves. Michael shares with us that while achieving those dreams are not impossible they may require a lot more work than many think or are willing to put in. This book resonates with me because of the witty insights from Michael, the beautiful illustrations, and the way it deeply relates to those of us who chose a creative career path.

Cash

Amazon Review
Every page in this book reminds me of my self and the decisions I made, right or wrong, over the past 16 years of my career as a Graphic Designer & business owner. Michael Janda's clever and genuine writing of his own experiences throughout his successful career in the creative industry, gives voice to many who struggled just like him. This book is a must read! Not only for Graphic Designers with an entrepreneurial drive but also design students, teachers, creative professionals, and even clients who hire creative professionals.

Cagan Yuksel

Founder / Creative Director, GRAFX CO.
This book is by far the most enjoyable design related book I have read. The author Michael Janda put himself into this book and you truly feel as though you're sitting across the desk from him having a conversation. He writes with a level of open authenticity so that you feel as if you know him personally. The book is full of practical and actionable advice! I truly believe that anyone working remotely in the creative field, regardless of tenure, should read this book. Burn Your Portfolio teaches or helps you remember how to: be a good employee, co-worker, treat clients properly, deal with hard topics, and this list goes on.

Josh K.

Amazon Review
This is a great book. As a design major finishing up my last year at University, it's great to get some insight on what it's like trying to get a job in the industry. It's given me good advice as well as confidence in my ability to land a job in the *hopefully* near future. The chapters are short and to the point, making it an easy read. His personal stories are funny and the book has a great overall tone to it. Not to mention, it really is a book that would be beneficial for anyone from any field to read. Highly recommended!

Belle

Amazon Review
This book is extremely insightful. The chapters are broken down into bite size sections. Each chapter gets to the point and is easy to follow and memorable. Its quirky, informative, and creative. There are dozens of nuggets of wisdom for people starting out as freelancers or rookie graphic designers and gives inside tips and tricks that are hard to find without being in the trenches of the graphic design industry.

Sam Wilson

Amazon Review
I loved this book. It changed my perspective on so many challenges I face daily as a designer. It contained practical, solid advice about the real problems real designers encounter, all the time! Full of good natured humor and poignant personal examples which help the reader to relate. An absolute must read for anyone in a design field.

Jeff

Amazon Review
I would highly recommend this book! As a recent college grad and a graphic designer that has quickly rose in the ranks at my company; I found this book not only informative but also assertive in reminding me of some good practices that I already use. Love the causal and at times humorous tone the author took in writing the book.

Jacob W. Mahaffey

Amazon Review
I am a graphic designer and this is probably one of my favorite books. All the frustrations of the design industry were discussed and many helpful tips were provided. This was a very insight and quick read! His writing style is excellent.

Jonathan Landis

Amazon Review
Excellent book. Extremely helpful with deep-drive examples. I'm thankful for the author's transparency—very refreshing. Highly recommend and I've already bought another one for a fellow graphic artist friend.

Heather G.

Amazon Review
Burn Your Portfolio is a fantastic book. It's full of original information that provides a look into the design business through the eyes of an agency owner. this is valuable to anyone who ever wishes to be more than just a production artist. I think there are loads of valuable resources for Product designers and (other) designers alike. It's reminded me how my clients deserve to be treated and provided some stepping stones to advance my own career.

Will Gibbons

Amazon Review
Burn Your Portfolio: Stuff they don't teach you in design school, but should made its debut in English. Within a couple years of its release it has been translated into Russian, Chinese Simplified and Chinese Traditional languages.