Ahhh… the North Shore of Kauai, sandy beaches, incredible scenery, warm water, and laid back style. My family can't get enough of that place. We're not the only ones who love this island paradise. Kauai attracts roughly 1.3 million visitors each year and many celebrities have homes there.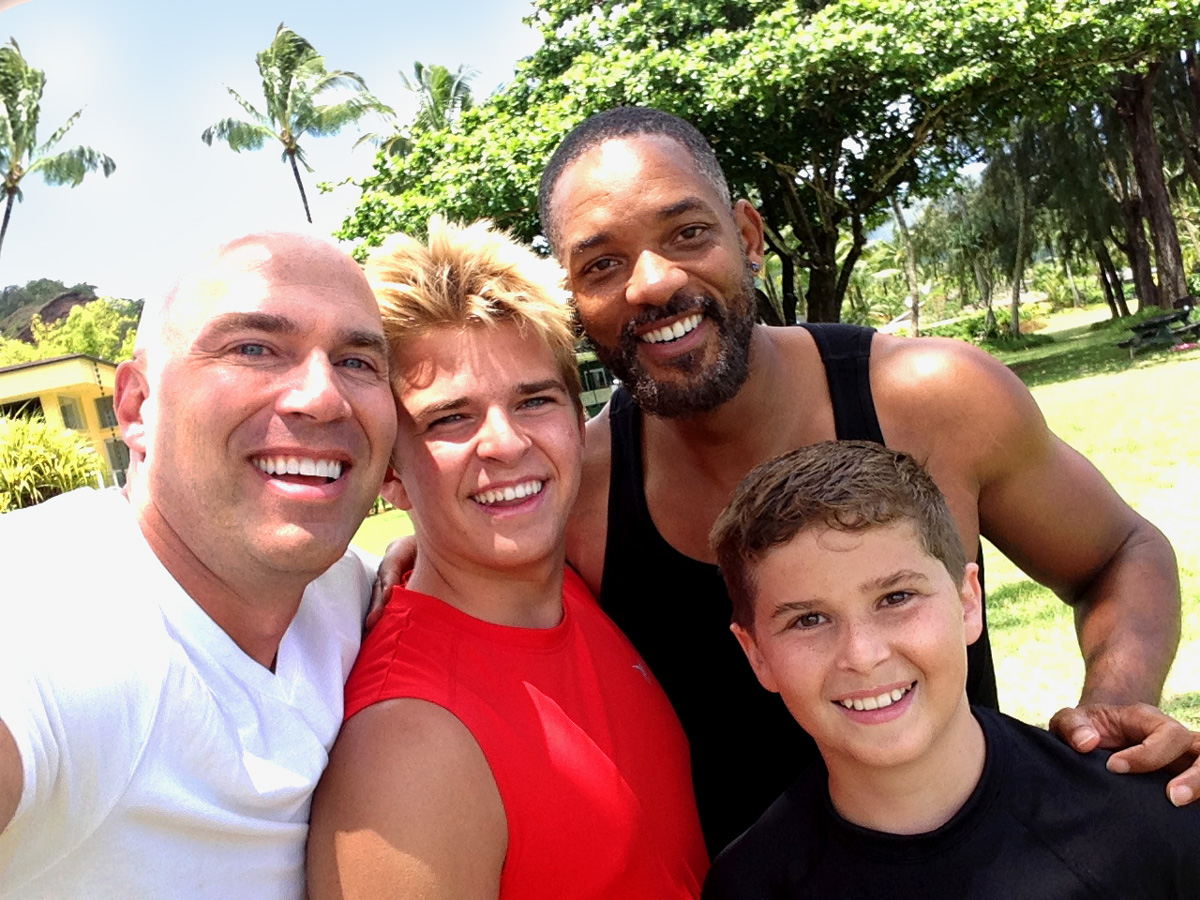 It is well known that Pierce Brosnan has had a residence on the island for more than a decade, near Tunnels Beach. We once sat next to John Oates during lunch at Hanalei Gourmet. The dudes at Bubba Burgers told me they see David Lee Roth chillin' in Hanalei from time to time. Johnny Depp's limo drove past us when he was on the island filming Pirates of the Caribbean: On Stranger Tides. However, we have never been lucky, gutsy, or perhaps inconsiderate enough to have an interaction with any of these celebrities.
During our latest trip we frequented one of our favorite North Shore beaches. Two days in a row we shared that beach with Jada Pinkett Smith and her daughter, Willow. Jada chilled on a lounge chair. Willow caught some waves on her white surfboard. We minded our own business and fought the urge to act like paparazzi-celebrity-stalkers.
We visited our wavy beach for the third day in a row, set up our camp, and began our activities. I took our toddler into the ocean to play while our twelve-year old hit the waves for some surfing. Our teenage son kicked back with his Clive Cussler novel intent on darkening his tan with my wife.
About thirty minutes into our beach day, I looked up from my waist-deep spot in the ocean and recognized Willow walking down the beach, surfboard in hand, to hit the waves. I panned up the beach expecting to see Jada arranging her lounge chair like the previous two days. Instead, it was Will Smith who brought his daughter to surf. There he was, standing twenty feet behind my family's beach camp!
Will Smith! While in high school during the late 80's I wore out my copy of  "He's the DJ, I'm the Rapper" and have been a fan ever since…a fan of his music, a fan of his movies, and most of all a fan of his mega-talented, charismatic, personal brand. Will Smith is not your every day ordinary celeb. He's the kind of celebrity you think you can be friends with…the "you wish he was your neighbor" kinda guy. He exudes coolness and fun. He is smart, well spoken, and produces entertainment media that is clean (something my family really appreciates). In fact, on the long list of famous people that would be awesome to meet, he would be at the top of mine. I knew I wasn't going to let a few paces in the sand keep me from shaking the hand of one of my favorite celebrities.
Hefting my toddler onto my shoulders I started sloshing through the water back to the beach. My son came running down the beach toward me saying, in a hushed but excited tone, "Will Smith is here!" I said, "I know! Let's go meet him." A few more paces and I was back at our beach camp.
My wife immediately said, "Don't you go talk to him." (Knowing exactly my plan.) "Let them have their vacation. They don't want to be bothered." (She is always so considerate of others…one of her best talents.)
I concurred with her wise advice for about twenty minutes until she decided to take the baby back out for a swim. My older boys and I put on our shirts and proceeded up the path to where Will was sitting. "I hope he isn't put off by our asking for a picture," I thought to myself as I braced myself for disappointment in the meeting. "I sure hope he is as cool as he seems in interviews. Could he really live up to my high expectations?"
My unfounded concerns were quickly put to ease during our brief experience with Will as I gained a greater appreciation for him and learned some simple things that make Will Smith one of the most charismatic people on the planet.
So, for those of you who wish you were a little more like The Fresh Prince, here are ten things I learned about charisma during two minutes with Will Smith:
1. Act Confident
When he arrived at the beach, he and his daughter came to the sand together. She prepared her gear for surfing and he stood nearby. His arms were crossed over his chest; feet shoulder width apart with his head raised up looking down the beach at the ocean. Wearing a tight black tank top he looked like something straight out of an Under Armour advertisement; his body language confidently projecting, "I'm Will Freakin' Smith and I'm awesome."
Act confident whether you feel it or not. The way you stand, the way you dress, and how you hold your head all play a part in your portrayal of confidence. Self-confidence is a charismatic trait that will attract people to you.
2. Be Approachable
As I walked up the path with my two older sons in tow, camera in hand, he undoubtedly knew what we were coming for. We got close enough to talk and I said, "Hey Will, can we get a picture with you? We are big fans." He replied without hesitation, "Absolutely." He didn't say, "I guess so," or "I suppose," or "Nah, man, I'm good." He used the word, "absolutely" and relieved any concerns that I had of him being put off by our visit.
"My wife told me not to bother you on vacation," I said. Will replied, "It is no problem at all." (My wife is grateful that I cleared her name. I am grateful that Will made us feel comfortable by assuring us that we weren't hassling him.)
Be approachable and make people feel welcome in your presence.
3. Stand Up When You Meet Someone
As soon as I spoke my introductory question, Will stood up and took a step toward us. He didn't sit back down until we departed. Standing up when you meet someone is old school etiquette and shows both respect and humility.
4. Look People In The Eyes
Throughout our entire time together, Will made eye contact with each of us many times. It wasn't "weirdo" eye contact, like he thought we were going to nab his wallet. It was the kind of eye contact that says, "I'm here with you right now. I'm not worrying about anything else." Making eye contact with others helps them feel like you care about them.
5. Call People By Their Name
I said, "This is my son, Mason." Will replied, "Hi, Mason." I then introduced Max and myself, "This is Max and I'm Mike Janda." Will stated, "Hi Max. Nice to meet you, Mike."
Hearing Will call my boys by name meant a ton to them and I'm not going to lie, I appreciated it too.
Dale Carnegie said, "Remember that a person's name is to that person the sweetest and most important sound in any language." Will certainly knows this. Call people by their name.
6. Make Physical Contact
Will shook each of our hands when we made introductions and when it came time to snap our photo, he didn't hesitate to rest his hands on my boys shoulders as if they were close friends.
Don't be afraid to make physical contact with others. I'm certainly not advocating hugs and kisses with strangers. But a handshake, a pat on the back, or a well-timed fist bump can go a long way when charismatically connecting with people.
7. Smile
During our entire exchange my boys and I were smiling (needless to say, we were with Will Smith.) What I appreciate is that Will was smiling too; nice and big, ear to ear showing his shiny white teeth. Smiling at people is the simplest way to exude a little charisma.
"Every time you smile at someone, it is an action of love, a gift to that person, a beautiful thing." ― Mother Teresa
Smile when you meet people. Smile around your friends. Smile around family. Putting a smile on your face will not only make other people feel happy, it will make you feel happy too.
8. Joke Around A Little
I began arranging people for the photo. I said, "Mason, you stand over here. Max, you stand right there." Will interrupted when he figured out what I was setting up for and said, "Ohhhh, we're doing the selfie thing! That's cool. That's cool." We all gave a little chuckle and it kept the moment light.
A little quip here or there puts people at ease. The right joke at the right time can illicit a laugh and help others have fun around you.
9. Be Sincere
We lined up for our group selfie. I shot about seven pics in rapid fire succession (just to make sure I got at least one with everyone's eyes open) and we started to wrap up our moment together. My boys started to step away toward our beach spot and I turned to Will and said, "Hey, thank you for being a positive role model. We really appreciate that." Will looked me in the eye and said, "I'm trying man!" as he thumped his hand on his heart, his face showing genuine appreciation for my comment. I said, "No seriously, in your industry it is tough to maintain a positive image. You're doing a great job. We really appreciate it."
I'll likely never see Will Smith again. My comment may or may not have any impact on him. Regardless, he showed genuine appreciation in his body language and reaction. Be sincere with others.
10. Be Polite
I said, "Thank you." Will replied, "Thank you." We parted ways, Will back to his lawn chair and my boys and I wandering down the short path to the beach. What did he have to thank me for? We were the ones receiving the special moment with Will Smith. His "thank you" remark seemed to come naturally from a lifetime of training in "politeness."
Always be polite to others. A little "please" and a lot of "thank you" will go a long way in your life.
My boys and I walked back down the beach high-fiving each other in our minds (because doing it in real life would have been tacky). We spent the rest of the day saying things like, "Freakin' Will Smith!" and "We got to meet Will Smith!"
Will Smith was everything you would hope him to be: polite, funny, sincere, friendly, and kind. Though only a few minutes, the time he generously gave us was of the highest quality filled with character lessons that I hope will benefit my boys throughout their lives. I know they will me.
(Thanks again, Will, for being a positive role model.)